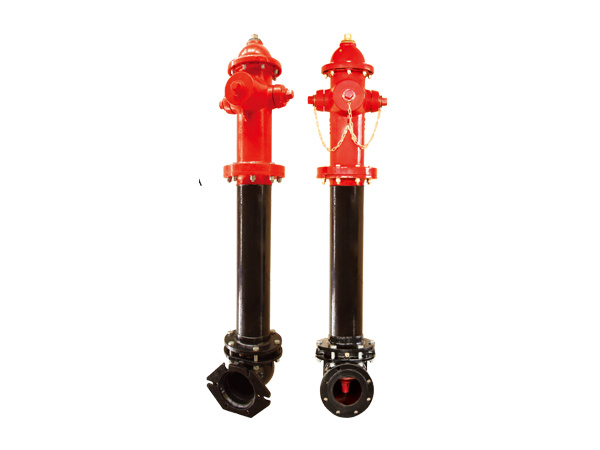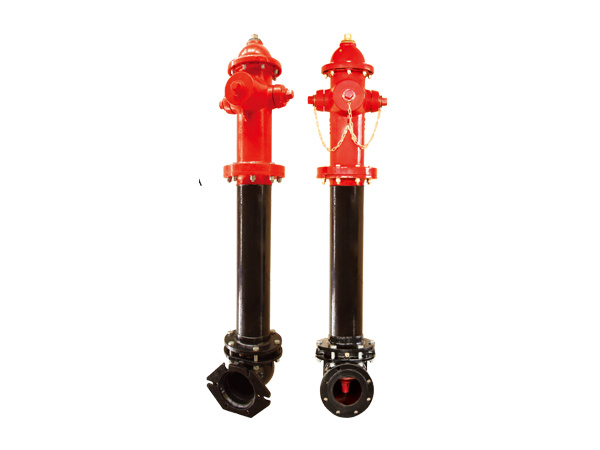 Wall Type Indicator Post
---
MH-1510FA/MH-1510A

---
Technical Features
Nominal Pressure: 250PSIDesign Standard: AWWA C502
lnlet flange size: 6"(DN150), Main Valve size: 133.4 mm / 5-1/4"
One pumper nozzle:4.5-4NH thread. Two hose nozzles, 2.5-7.5NH threadsOther kinds of threads are available
Mechnical connector: AWA/ANSIC153/A21.536,Model No. MH-1510A
Flange connector: ASME B16.5 CLASS 150/DIN 2501 PN16, Model No.: MH-1510FAPainting Details: Red Polyurethane paint & Bitumen Black or painting upon requestNote:Each hydrant is supplied with a hydrant wrench
Approvals: UL 246 Listed, FM 1510 Approved
Installation
Hydrants should be handled with care to avoid damage. It is recommendedto keep hydrants closed until use
If the hydrant is not to be used straight away then it is recommended tocoat threads and other machined parts with anti-rust oil and the hydrantshould be stored in a dry and ventilated area. For long-term storage,thehydrant should be checked regularly
Before installation of hydrants, the connection should be free from dirt orother matter
The positioning of the hydrant should be in accordance with local requirements.ldeally the pumper should face the street and all connections should beaway from any obstruction to connecting hoses
The inlet elbow should be placed on a solid surface and if possible bracethe side opposite the incoming flow to reduce reaction stresses
The underground parts of the hydrant should be surrounded with coarsegravel for support and drainage
After the hydrant has been installed and tested, it is recommended to fullyflush the hydrant before closing for service.Before replacing the nozzlecaps, it is recommended to check for correct drainage of the hydrant onclosing of the valve: This can be achieved by placing a hand over thenozzle opening, a suction should be felt.
Operation
Unscrew the nozzle caps and connect hoses
Open the hydrant using the hydrant key (included) to the fully openposition by turning the operation nut in an anti-clockwise direction.Donot force the hydrant to open further past the fully open position.Notethat the hydrant valve is not intended to control the flow, it should beused in either the fully open or fully closed position
To control flow, a pressure/flow control valve should be fitted to the nozzleoutlets on the hydrant
To close, turn the operation nut into a clockwise direction again, do notover tighten
3D Picture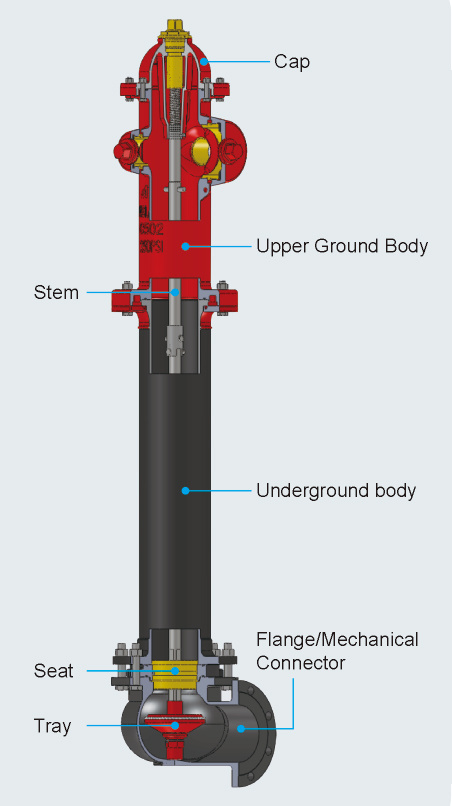 Material List
Carry out a visual inspection for signs of significant corrosion which may impair performance
Where possible, carry out leakage tests by opening one of the nozzle caps slghtly and then open the hydrant valveOnce the air has escaped, tighten the hose cap and check for leaks
Close hydrant and remove one nozzle cap so that the drainage can be checked
Flush the hydrant
Clean and lubricate all nozzle threadsClean the exterior of the hydrant andrepaint if required
Material List
| | | |
| --- | --- | --- |
| NO. | Name | Material |
| 1 | Flange Connector orMechnical Connector | Ductile Iron |
| 2 | Locking Nut | Ductile Iron |
| 3 | Connecting Rod | Steel 1045 |
| 4 | Locking Nut Gasket | EPDM |
| 5 | Trav | Ductile Iron |
| 6 | Sealed Rubber Sheet | FPDM |
| 7 | Drain Hole Spring | 316 Stainless Steel |
| 8 | Connecting Cylinder | Ductile lron |
| 9 | Perforated Cylindrical Pin | Steel 1045 |
| 10 | Connecting Rod Sleeve | Steel 1045 |
| 11 | Clamp For Connection Tube | Ductile Iron |
| 12 | Main Body On Ground | Ductile Iron |
| 13 | 65 Connector | C95400 |
| 14 | 65 Cover Gasket | FPDM |
| 15 | 65 Cover | Ductile Iron |
| 16 | Upper End Cover | Ductile Iron |
| 17 | Thread Plug | C95400 |
| 18 | Screw Stem Nut | C95400 |
| 19 | Screw Nut Gasket | C95400 |
| 20 | Screw Nut Seat | C95400 |
| 21 | Bolt.nut | Steel 1035 |
| 22 | 100 Cover | Ductile Iron |
| 23 | Cylindrical Pin | Steel 1045 |
| 24 | Cover Chain | Gr.B,ASTM A283-B |
| 25 | Bolt,nut | Steel 1035 |
| 26 | Screw Stem | Steel 1045 |
| 27 | Cushion Rubber | EPDM |
| 28 | Drain Hole Cover | C95400+EPDM |
| 29 | Seat | C95400 |
| 30 | Bolt,nut | 316 Stainless Steel |
| 31 | Seat Fixing Plate | Ductile Iron |
| 32 | Bolt,nut | Steel 1035 |
| 33 | Annular Tubes | Steel1045 |
| 34 | Platen | Ductile Iron |
| 35 | Lockina Nut Seat | Ductile Iron |
| 36 | Check Turn Gasket | Gr.B |
| 37 | 100 Connector | C95400 |
| 38 | 100 Cover Gasket | FPDM |
| 39 | Screw Stem Bushing | 316 Stainless Steel |
| 40 | Bolt | 316 Stainless Steel |
Buried Dimensions
(mm)

3'6"

4'

4'6"

5'

5'6"

6'

6'6"

7'

1063

1215

1368

1520

1673

1825

1978

2130
APC Industries

Mobile website

Add WeChat chat
CONTACT US
Add:No. 18 Taishan Road, Ningjin County, Shandong Province P.R.China
Mobile:+8618600252968
WeChat:cuiyuying01
E-Mail:
---